Article Republished By Javier Troconis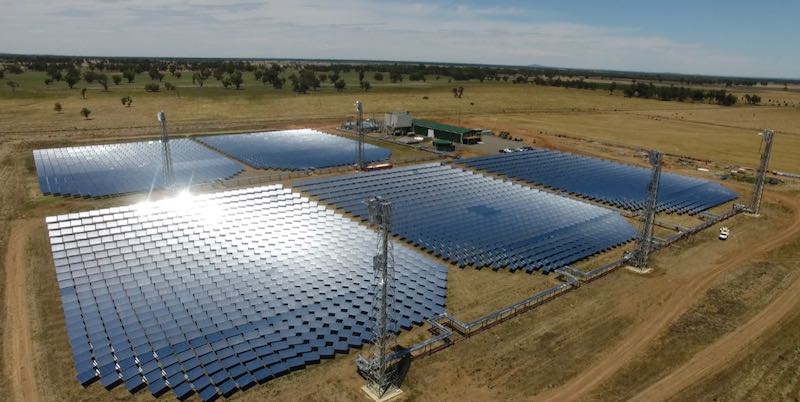 A "world-first" solar methanol production facility – providing green fuels for the shipping and aviation industry – to be built in Port Augusta, taking heat and electricity from what is hoped to be the country' first large scale solar thermal project.
Australia's Vast Solar and the Solar Methanol Consortium it leads will receive a total of $A40 million from the Australian and German governments to build the facility in South Australia.
It is one of four green fuel projects projects co-funded by the Australian Renewable Energy Agency and its German partners, and announced late on Friday as part of federal energy minister Chris Bowen's trip to Europe.
The solar methanol plant is the latest in a series of technology proposals at the site that was to host one of the world's biggest solar thermal projects, SolarReserve's 150MW Aurora project that collapsed because of financing and technology problems.
Vast Solar, which has its own solar thermal technology proven at a small 1.1MW plant at Jemalong in NSW, (pictured above), is also partnering with local company 1414 to develop a 140MW big battery (with at least one hour storage) at the site.
It has also inherited from Aurora the promise of $110 million in concessional finance from the federal government to build its own 30MW solar thermal plant with eight hours storage. Wood expects that financial close, with equity partners, will be reached in 2023, with the plant starting operations in 2026.
The methanol project will take around 10 to 20 per cent of the solar thermal plant's output under an off-take agreement, with the money promised by ARENA ($19.48 million) and its German counterparts (€13.2 million) to build the methanol plant and other infrastructure.
Wood says solar methanol is an attractive product becaus it is easier to use in retrofitted ships than green ammonia, and can readily be used to produce sustainable aviation fuel, and is likely cost competitive with fossil fuel methanol once produced at industrial scale.
Methanol is made by the combination of hydrogen and Co2, with the latter to be supplied by another Australian company Cailix, under a carbon capture technology it uses as part of a lime supply agreement with cement company AdBri.
The other partner in the consortium is the Australian Solar Thermal Research Institute (ASTRI). The provider of hydrogen electrolysers and the German supplier of the methanol plant have not been named.
Wood says the solar methanol plant will aim to produce 7,500 tonnes a year, which is not huge in the overall scheme of things, but will allow a technology price to be discovered, helping to finance subsequent bigger projects.
"Solar Methanol 1, or SM1, in Port Augusta plant has the potential to supply the shipping and aviation industries with zero-emission fuel," he said.
"This is a major step forward in helping to decarbonise hard-to-abate sectors and we applaud the Australian and German Governments' leadership …. this has the potential to supercharge the domestic renewables industry."
Vast Solar is also proposing to build another 50MW "baseload solar hybrid" plant at Mt Isa, in Queensland, although a timeline has yet to be established for that project.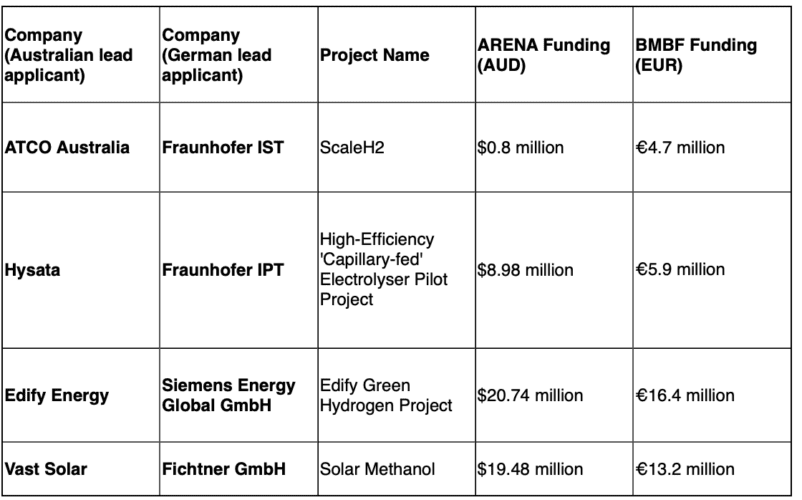 The other three projects to receive fund under the Australia-German initiative include a green hydrogen project proposed by Edify Energy and Siemens (more than $A40 million) and an electrolyser project by Australian start-up Hysata (a total of $A18 million). Atco will also receive funding for a green ammonia facility in NSW.
The Edify Green Hydrogen Project involves the deployment of a 17.5MW Siemens Energy electrolyser with 21MW of solar PV integrated behind the meter to produce renewable hydrogen for domestic industrial and transport applications.
It is the first stage of a planned 1GW green hydrogen production facility that will export hydrogen globally through the Port of Townsville.
"Australia's place on the world stage as a leading provider of green hydrogen is taking shape and we look forward to doing what we do best – delivering the economic, environmental and social benefits of green hydrogen to communities of Northern Queensland and the world," Edify CEO John Cole said.
The Hysata project will support the development of the company's 'capillary-fed' electrolyser technology that the company claims will deliver the most efficient electrolyser in the world.
It claims 95% system efficiency, a "giant leap" in performance and cost over incumbent technologies, which typically operate at 75% or less. Paul Barrett, CEO of Hysata
"Australia has a once-in-a-generation opportunity to be a global leader in green hydrogen and we are delighted to see the Government backing Australian innovators," CEO Paul Barrett said in a statement.
"Our technology will enhance sovereign manufacturing capabilities, create high skilled jobs and position Australia as a green hydrogen powerhouse by providing electrolysers for domestic projects and exports."
The Atco project, known as ScaleH2, is the first step to another planned gigawatt scale electrolyser project and 800,000 tonne per year green ammonia facility in the Illawarra.
"ATCO has set its sights on exports to global markets and the ScaleH2 project will further advance our ambitions to expand our capabilities as a hydrogen leader in Australia and the globe," said Karen Nielsen, Managing Director, Global Renewables at ATCO.
"The ScaleH2 project, with our partners, will accelerate understanding across industry of hydrogen's economic potential towards a clean energy future."
Giles Parkinson is founder and editor of Renew Economy, and is also the founder of One Step Off The Grid and founder/editor of the EV-focused The Driven. Giles has been a journalist for 40 years and is a former business and deputy editor of the Australian Financial Review.